Katryna Sardis, LMSW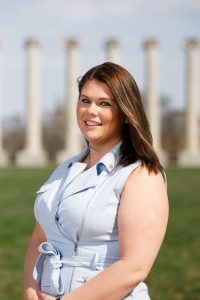 Director
Katryna Sardis (she/her) oversees the Relationship and Sexual Violence Prevention Center located within the University of Missouri-Columbia. During her four years in the professional field, Katryna has worked her way up from a graduate assistant, to an education coordinator, to achieving the director position. Katryna holds a Master's degree in Social Work, is licensed in social work in Missouri, and is currently obtaining her Educational Doctorate in Educational Leadership. Throughout her professional career, she has learned the nuances of producing sexual violence response, education, and prevention efforts within higher education.

In her role, Katryna facilitates and oversees all relationship and sexual violence case management services, prevention, and education for the campus and develops a network of professionals passionate about creating a more secured campus community for students, staff, and fac. She strives to ensure she educates the campus community on how they can protect each other from power-based personal violence throughout all her work.
Patrick Skrivan, MSW
Learning and Development Coordinator
Holding both a Bachelor of Arts and a Master of Social Work degree from the University of Missouri, Patrick (he/him) has developed a keen understanding of Mizzou's campus dynamics, networks, and culture regarding violence prevention and education. Throughout his involvement at the RSVP Center within a myriad of roles, he has specialized his praxis and expertise in DEI-focused organizational development, culturally-excellent and trauma-informed practice, and student professional development. As the Learning & Development Coordinator, Patrick oversees the RSVP Center's professional development series "The RSVP Institute," cultural competency and diversity trainings, and supervises the student internship program. Patrick is passionate about building networks across campus to foster a community of care and belonging at Mizzou.